Chorus
Chorus is a new space-flight combat shooter releasing in 2021. Become Nara and Forsaken, her sentient starfighter, on a compelling, personal journey of redemption. Unlock devastating weapons and mind-bending abilities in a true evolution of the space-combat shooter. Explore breath-taking interstellar vistas, ancient temples and venture beyond our waking reality. Outgun, outwit, and outmaneuver your enemies in an epic quest to free the galaxy from oppression.
In Chorus, the player takes on the role of Nara. She is a fugitive from the Circle, a cult that has taken over the galaxy. Teaming up with Forsaken, her thinking vessel, she must join the resistance to stem the Circle's threat and disable their leader, the Great Prophet.
With the controller in hand, Chorus is surprisingly accessible. The piloting of Forsaken is simplified to the maximum, maybe even a little too much. The left stick is used to control the throttle, while the right stick is used to steer the nose of the machine. Apart from barrel rolls to dodge some projectiles and a drift system, that's about it. It is not possible to propel up or down or to move sideways continuously for example. To adjust his trajectory, the player must therefore use the Drift mechanics mentioned above. By holding down a key, Nara can rotate her ship and change her angle of view very quickly while maintaining her inertia. This makes it possible to turn around very quickly to attack a pursuer. And if the whole thing is perhaps a little lacking in navigation options and depth for space exploration aficionados, there is no denying that Chorus is very easy to handle. Combat is instantly exhilarating and makes smart use of Nara and Forsaken's supernatural abilities. In addition to the handy Drift, our heroine can teleport behind an enemy in a split second. This super-powered ability is subject to a gauge that fills up quickly. Unlearned ability slots suggest that more offensive and defensive options will be unlocked as the adventure progresses.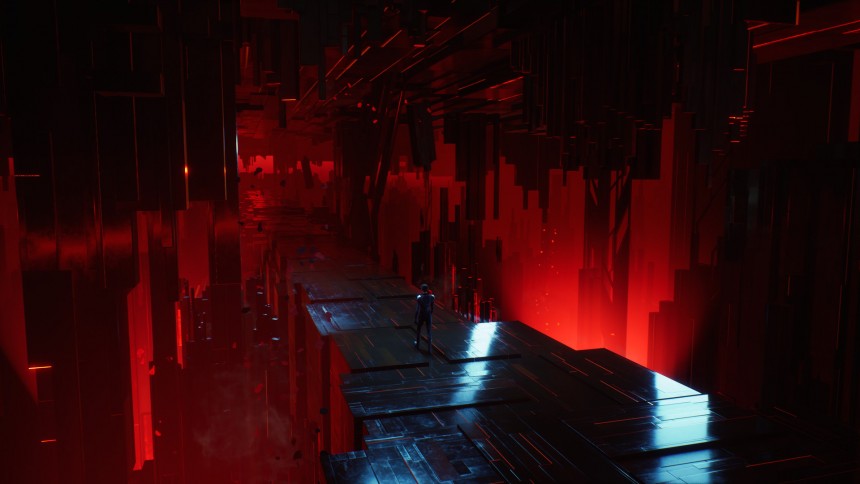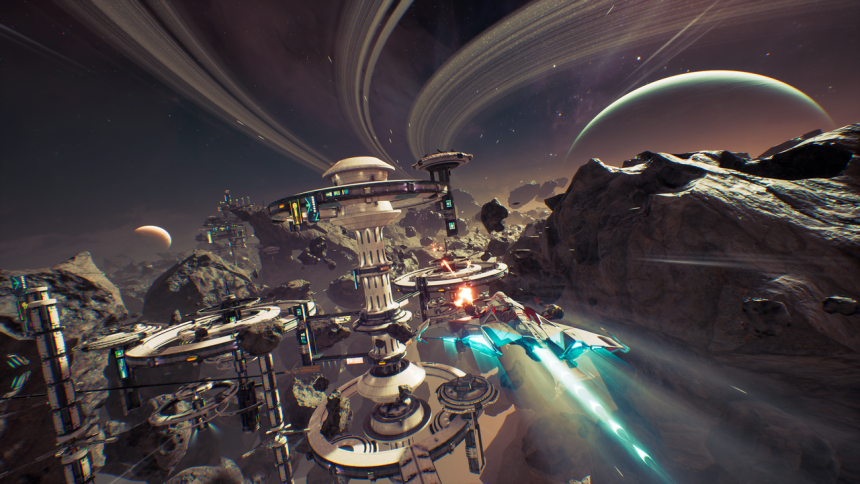 Segmented into medium-sized open areas, the world of Chorus seems particularly well constructed.
Iif the mission objectives are not very original, their architecture and the confrontations which punctuate them are really pleasant and give desire to see more.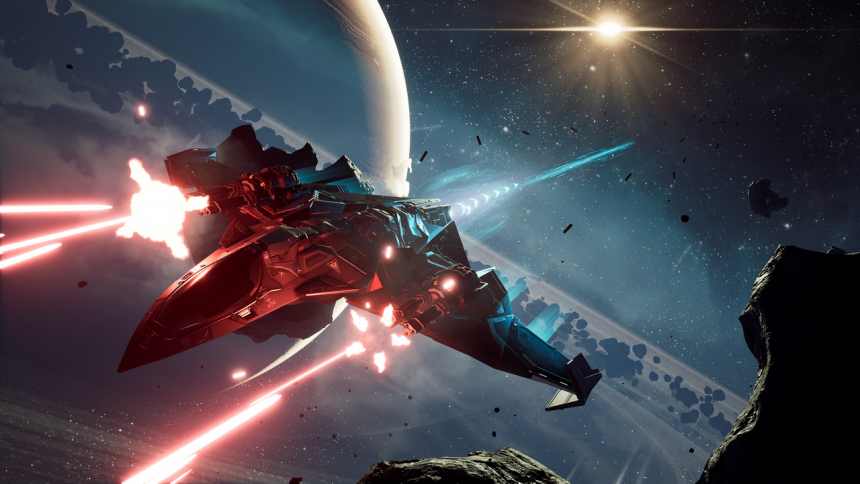 A JOURNEY OF REDEMPTION – Become Nara, an ace pilot facing her haunted past, and Forsaken, her sentient ship. Their quest for redemption will take them across the galaxy and beyond the boundaries of reality to unite resistance forces and stop the Circle and their leader, the Great Prophet, at all costs.
VENTURE BEYOND THE VOID – Enter a dark new universe, teeming with mystery and rife with conflict. Explore sprawling space stations and trading hubs. Engage your enemies in exhilarating zero-g dogfights among exploding stars, dying planets, atmospheric asteroid belts, glittering ice fields and strange planes of existence outside our own. Chorus balances the scale and spectacle of space exploration with frenetic, fast paced action.
ONE PILOT, ONE SHIP, ONE LIVING WEAPON – Attain powerful and distinct weapons and combat upgrades. Master your ship's unique drift mechanic and intuitive abilities including extra-sensory perception, teleportation, and telekinesis to overcome massed hordes of enemies and take down titanic battleships. Chain your powers together to become the ultimate living weapon. Rise as one. Coming soon.