Workers & Resources: Soviet Republic
Independent games development studio 3DIVISION has today released Content Update #8 for the Early Access version of Workers & Resources: Soviet Republic, the real-time soviet-themed city builder tycoon game set in an imaginary communist country in Eastern Europe. Workers & Resources: Soviet Republic is the ultimate real-time soviet-themed city builder tycoon game. Construct your own republic and transform a poor country into a rich industrial superpower!
The secret police building is where only the highly educated citizens can work. They will have duty vehicles assigned to them which look like personal cars but are assigned to the secret police building. This allows the secret police to travel undercover to residential areas and install spy equipment into citizens homes to gather loyalty information on the people living there. 
Every citizen has government loyalty. The higher the loyalty the more productive they are at work and the less negative influence they have on overall happiness. Citizens with lower loyalty can be restricted from working within certain critical jobs such as school, TV or radio stations, to reduce the risk of negative influence (and therefore lower government loyalty) over students or other citizens. 
Finally, you can now build monuments to influence government loyalty. Building monuments can increase government loyalty by up to 50% for citizens who pass by them.
New GUI
Using community feedback, the GUI has been updated for ease of use. There is a new construction menu with customizable screen positions and a quick stats tab to access information on your citizens as well as your republic's economy.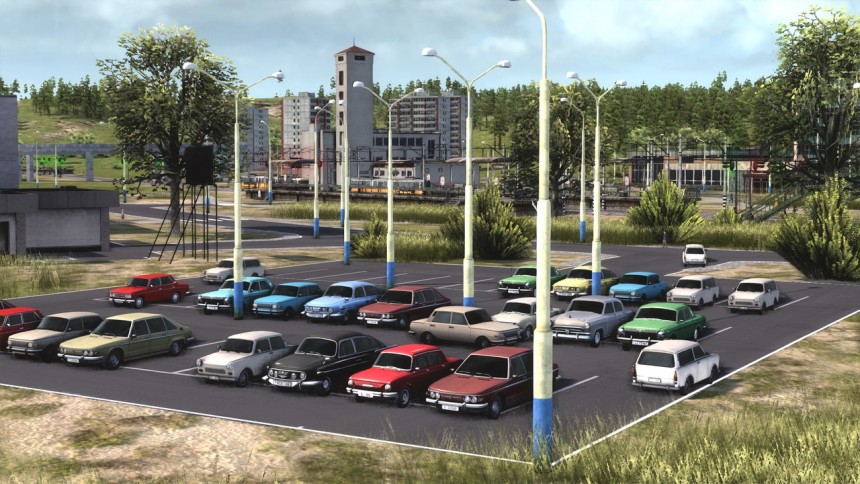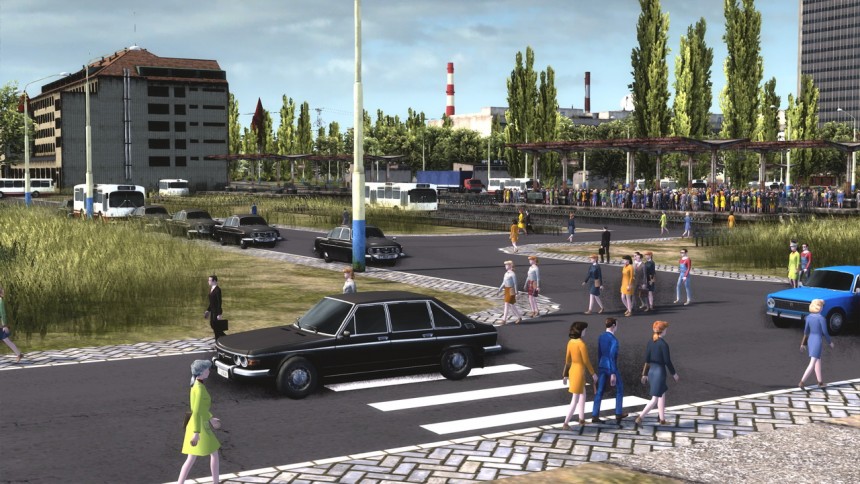 Content Update #8 features: 
Build monuments to increase the loyalty of your citizens. 
Use secret police to install spy equipment and find out how loyal your citizens really are! 
Utilize information gathered by the secret police to ensure citizens do not use their positions to affect other citizen's loyalty. 
New construction menu with customisable screen positions. 
Quick info tab to access citizen information and your republic's economy. 
New complex rail signals mechanic update. 
Optimized traffic flow added for parking lots and other buildings.
Orphanage added - Look after your republic's children should the worst happen to their parents.
Many other gameplay and mechanics improvements.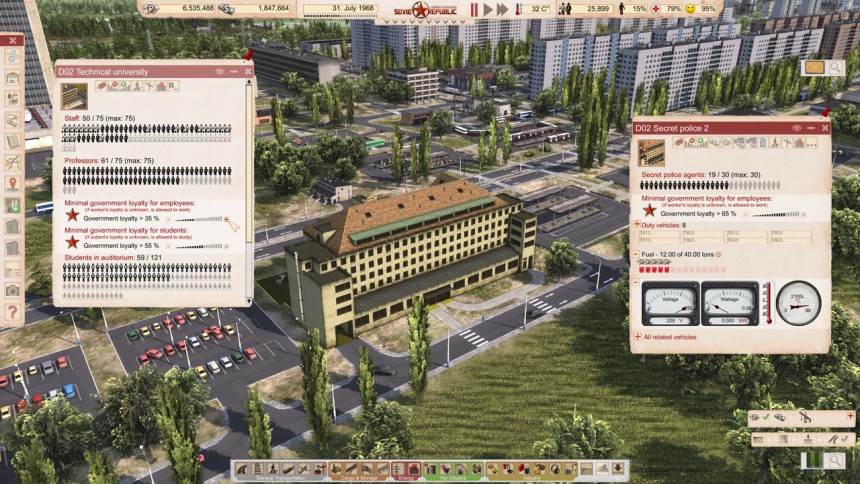 Workers & Republic: Soviet Republic game features:
Manage all aspects of your own republic with a planned economy, including mining resources, manufacturing goods, construction, investments, and citizens too.
Create your own industrial complexes with loading and unloading stations, storage, warehouses, and factories.
Build the infrastructure and manage its traffic, including roads, railways, sidewalks, conveyors, wiring, and pipelines. Wisely place and connect factories, houses and warehouses, and make the most efficient connections.
Plan and build the living areas with everything your citizens may need to live their happy life, such as playgrounds, cinemas, taverns, and shops.
Send your citizens to the mine to get coal, iron and other natural resources; or send them to the fields to pick up the crops; or take them to factories to produce manufactured goods.
Sell and purchase resources and goods from western countries or other soviet countries to get dollars or rubles and buy the products or resources you need ... or invest in new infrastructure or buildings.
Enjoy authentic soviet buildings and vehicles, as well as realistic landscapes of the 60's to the 90's.
Play the way you want! You can focus on getting natural resources or products and trade them for money; or you can build a self-sufficient republic; or you can just use the easy sandbox mode with unlimited money/resources and just enjoy building something live.
Prices of resources on the global market are changing over time as you play –one day you can sell or purchase steel for $100 per ton, but in a few months the cost can rise to $200 or decrease to $50. The price of everything is connected to the cost of work and resources.